E X C L U S I V E M A N U F A C T U R E R, D I S T R I B U T O R, I N V E N T O R

2. H O W TO U S E

O R I G I N A L B U T T E R F L Y E Y E L A S H G U A R D ®

APPLYING & REMOVING EYE MAKEUP, EYELASH EXTENSIONS, PERMS & TINT

M A K E Y O U R B E A U T Y R O U T I N E S A F E R & H E A L T H I E R


♦ Fits precisely under eyelashes, if adjusted correctly

♦ Does not touch your eyelashes, it protects your skin

♦ The ONLY eye makeup tool which allows one to bring

the mascara ALL the WAY to your LASH LINE!

♦ Creates a straight edge for eye shadow without tape

♦ Creates symmetrical winged eye lines "cat eyes"

♦ Very thin and weightless. It does not stick to the thin

skin under your eyes, so foundation stay in place.

HAVE PERFECT FLAWLESS MAKEUP WITHOUT SMUDGES... AND SAVE TIME WHILE APPLYING IT!


F O L L O W I N G I N S T R U C T I O N S IS C R U C I A L !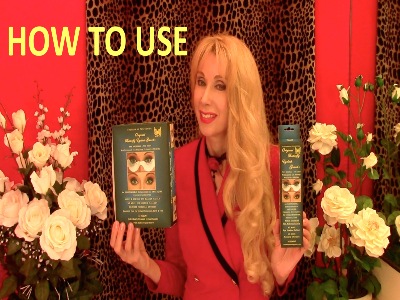 V I D E O >

HOW TO USE
BUTTERFLY EYELASH GUARD

C L I C K ON THE PICTURE >

P I C T U R E S I L L U S T R A T E D I N S T R U C T I O N S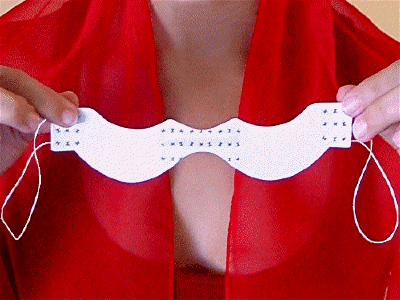 Butterfly Eyelash Guard is very easy and fast to apply

and safe to use.

1). Finish your face makeup. Prepare for the application

or removal of eye shadow and mascara or perform

eyelash extensions, perms or tint procedures.





2). Bend the middle part of the shield over the tip of your

little finger and make a loop around it.






3). Fold Butterfly Eyelash Guard slightly at the middle so

ends can symmetrically meet.

DO NOT press flat at the middle of the shield! Keep

the oval arch at the middle that designed to go over

nose and settle on the nose bridge.


4). Never miss this very important step. Press the shield

as shown on the picture to make a firm loop.

DO NOT press it flat at the middle! Keep the oval arch

at the middle to be placed on the nose bridge.

You are creating a size adjuster and the mechanism

that brings the upper edges of the shield directly in

a row with the roots of your eyelashes without gaps

between the skin and the shield.



5). DO NOT STRETCH the size adjuster at the middle of

the shield before you put on Butterfly Eyelash Guard

on your face. The middle nose part can be adjusted

(widen or narrowed) to match the line of the roots

of your eyelashes and to avoid the pressure on the

skin, after the ear loops will be nicely and comfortably

tighten up.





6). Place and HOLD the shield with your fingers on the

nose bridge during the securing the shield with the

latex FREE elastic ear loops.






7). HOLD the middle molded nose part and adjust ear

loops depending of the width of your face.








You have several ways to wear the shield: over the ear,

over the upper tip of the ear and as crossed loop (one

or more times depending of the width of your face).


8). The middle molded nose part can be adjusted (widen

or narrowed) to match the line of the roots of your

eyelashes and to avoid the pressure on the skin, after

the ear loops will be nicely & comfortably tighten up.

The lateral sides of the shield can be moved slightly

up or down for the perfect fit to the every shape of

eyes.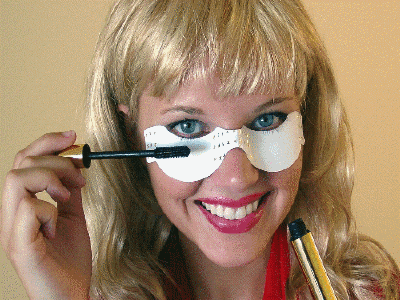 9). Apply your eye shadow and mascara. The texture of

Butterfly Eyelash Guard has no lint. Nothing will stick

to your mascara brush. You can test the intensity of

your makeup color and width of the line on the white

shield. It is disposable. It helps to create a straight

edge for shadow. After the mascara dries, take off

the shield.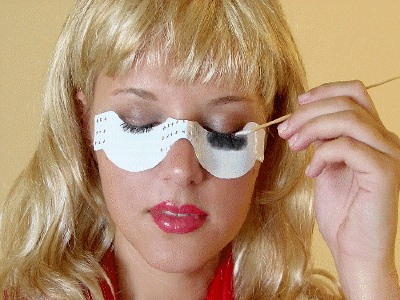 10). To remove makeup, use moistened cotton swabs,

pressing-releasing gently against the shield all the

way through the eyelashes from the roots to the

ends of the eyelashes.

I M P O R T A N T H I G H L I G H T S






MOLDABLE NOSE PART - YOUR SIZE ADJUSTER







SECURING MECHANISM -
LATEX FREE ELASTIC EAR LOOPS

________________________________________________________________________________________________________

Allergy Free* EYELASH EXTENSIONS & PERMS with Butterfly Eyelash Guard®


I M P O R T A N T I N S T R U C T I O N S

Cut two half moon pads with dry 4x4, paper towel or other

soft and lint free material and place them under Butterfly

Eyelash Guard which will hold those pads very well with

NO gels, NO water and no tape (see pic.) Little dry pads

underneath MUST NOT be horizontally stretchable along

the line of the roots of eyelashes, because it will NOT

provide a tight fit over the bottom eyelashes. Keep it on

your mind during cutting of the half moon pads.

Some of technicians suggested to use silicone pads under

neath of Butterfly Eyelash Guard. Cut those silicone pads

as two strips, place them on lower eyelashes and cover

silicone strip-pads with Butterfly Eyelash Guard to hold

those pads still without use of adhesive tape. If you prefer

to use a full size of silicone pads, be advised, the skin will not be able to breathe and it will cause the skin perspiration

underneath of silicone pads, because it is a synthetic material. Your client will not feel comfortable with those pads that

is suffocating and sticking to the skin during the lengthy eyelash extension procedure.

Protection of the skin and eyelashes with our Butterfly Eyelash Guard will take just a few minutes of your time, however

you will be greatly appreciated by your clients for your care. You will protect yourself and your business from substantial

financial loses.

Please look at the correct position and adjustment of Butterfly Eyelash Guard to the nose bridge on the pictures.

The shield should be placed under the eyes slightly lower than for mascara application if you will use it for Eyelash

Extensions or Perms.




A L L E R G Y F R E E* M E T H O D!

Adhesive tape FREE and Gel FREE

Please look at the correct position and adjustment

of the shield to the nose bridge and under the eyes.



Hypoallergenic Butterfly Eyelash Guard is covering and

holding little dry half moon pads underneath the eyes

that is added for the perfect fit during Lash Extensions

and Perms.

MORE INFO on Eyelash Extensions → C L I C K → PROFESSIONAL U S E

________________________________________________________________________________________________________

C L I C K on Links to Download, Save or Print Illustrated Instruction H O W TO U S E:

One Page (PDF): https://www.docdroid.net/SwlG4cr/butterfly-eyelash-guard-instruction-one-page.pdf.html

Four Pages with a Detailed Description (PDF): https://www.docdroid.net/QRlF3CA/illustrated-how-to-use-butterfly-eyelash-guard.pdf.html

________________________________________________________________________________________________________


← B U Y IT N O W !

Special Offer
Fast Free Shipping

________________________________________________________________________________________________________

P R O T E C T Your Skin & Eyelashes from D A M A G E & PREMATURE A G I N G

S A V E T I M E, M O N E Y & R E D U C E S T R E S S

H A V E P E R F E C T M A K E U P E V E R Y T I M E

O R I G I N A L B U T T E R F L Y E Y E L A S H G U A R D ®

B E A U T Y A W A R D S W I N N E R !

P A T E N T E D W O R L D W I D E !

"C L E A N & S A F E E y e M a k e u p"

"INNOVATIVE!" "BRILLIANT!" "EASY!"

"EFFECTIVE!" "ADDICTIVE!" "BEST!"

"M U S T - H A V E BEAUTY TOOL!"

________________________________________________________________________________________________________

J O B S ! N E W PRODUCT B R A N D PROMOTERS - DEMONSTRATORS

- SALES BROKERS IN 50 U.S. STATES & WORLDWIDE


There are NO registration fees, NO membership fees, NO product

purchase quotas, NO catches... and, specific product delivery to

buyers are required.

We offer FREE brief training, part time or full time job.

Your Days and Hours become your own with Butterfly Eyelash Guard

And please note, this is NOT a Multi-level Marketing Scheme!

If you LOVE talking to people, if you LOVE making money and being

your own boss... you will LOVE our company!

We are looking to add dedicated, highly disciplined, energetic,

confident, dependable, well organized people having a strong ethic, to demonstrate, promote and sell our globally patented,

hypoallergenic multi-tasking Butterfly Eyelash Guard.

We offer: a High Commission on % of sales. You control your sales accounts, you know the order amount!

You will be paid commission on all paid accounts. And note, you won't need to demonstrate the product to the same buyer

over and over.

Just promote our exclusive product, show people how to use it, bring new accounts and receive your commission checks

CONTINUOUSLY! We will ship or deliver the order. You will receive your check. It's that simple.

JOB REQUIREMENTS: at least a high school diploma, basic computers and Internet search skills, travel in your city and

county limits.

Our company is going through an ongoing growth phase, so more careers opportunities will be available very soon!

Please introduce yourself by email. You are welcome to call us seven days per week 12PM - 10PM EST.


________________________________________________________________________________________________________

C O N T A C T S
Phone: (561) 254-8149 ♦ Fax: (206) 888–0445

CLICK to E-MAIL: mailto:Contact@EyelashGuard.com

________________________________________________________________________________________________________

* M E D I C A L D I S C L A I M E R
The information contained on this website is presented for the educational purpose. Nothing contained on this website should be construed nor is intended to be used for medical diagnosis or treatment. It should not be used in place of
the advice of your physician or other qualified health care provider. Should you have any health care related questions, please call or see your physician promptly. You should never disregard medical advice or delay in seeking it because of something you have read on this website.

________________________________________________________________________________________________________

I M P O R T A N T N O T E S:
♦ We are advertising on legitimate media only. We are not responsible if any of the videos & pictures from our website
are embedded on other websites by a third party.